Welcome to The Startup Pregnant Podcast: where we dive into the lives and stories of women starting businesses and families.
Let's be honest: I feel like we're all just trying to figure it out one day at a time—one sleep-deprived, coffee-fueled, bleary-eyed day at a time. Entrepreneurship and parenting are filled with deep, difficult, and joyful lessons about what it means to be a person and make work in the world.
No matter how much prep work you do, there is no way to anticipate the singular experience of having a baby or starting a business. In fact, there are a number of parallels between pregnancy and startups, and this podcast explores those intersections with the hope of learning what the two worlds have to teach each other. Along the way, we'll talk about reinventing the way we think about parenting and work.
Listen to the first episode:
---

In this episode, I give you a bit of the behind-the-scenes about who I am, and why I started this show.
In 2014, I interviewed with One Month, the Y Combinator venture-backed startup focused on teaching people tech and coding skills, to join their rapidly growing team. While I interviewed, I was transparent about my plans to start a family. Eight months in I was promoted to VP. One month later, I realized I was pregnant. So today, two years later, I bring One Month founder and CEO Mattan Griffel on the show to discuss the perceived risks of hiring women who want to start families, and why he realized that this false cultural narrative is actually limiting himself in the search for great talent.
This desire to start a new story about what it takes to grow businesses and babies — and the overlap between entrepreneurship and parenting — was the impetus for starting this podcast. In today's episode, I talk about the main four reasons I made this podcast a reality, including (1) the flawed narrative of what it means to be pregnant as portrayed in popular culture, (2) the backwards methodology of startups that are self-described as disruptors, (3) why it's important to create new ways of working, and (4) why I ultimately needed to find and listen to other women's stories to root myself into the place and sense of what it meant to be a pregnant entrepreneur, and then later, to become a working parent.
I share the highs and the lows of startup life and entering into the pregnancy (and parenting) journey:
Vomiting into a grocery store at Whole Foods. Feeling my little one kick for the first time. The sense of isolation both at work and in the company of moms-to-be. Using this as a springboard for launching my next project, then company. Reckoning with colleagues and city-dwellers who didn't pay attention or notice made me dislike the city's seeming lack of empathy.
This podcast is the start of a conversation about the overlap between entrepreneurship, pregnancy, and parenting. Listen in to why we got started, and I'll also tell you about some of the inspiring people you'll meet in the first series to come up ahead. The goal of this podcast is to interview 100 women in a rich tapestry of stories. Along the way, I hope you'll enjoy discovering the similarities between starting a business and starting a family, and together, we can transform the way the world looks when it comes to working and parenting.
Complete show notes + highlights:
[1:45] The overlap of Sarah's experience with a tech startup and pregnancy
Education technology startup
Transparency during interview process
CEO open to making it work
[3:23] Why Mattan was open to hiring Sarah at One Month
Framed in terms of working with friends (poses risk to relationship)
People who do startups generally not risk-averse
Only way to succeed is to have best talent
Fits with agile startup mentality
[7:59] How Sarah's expectations of pregnancy differed from her experience
Anticipated loving it, being 'able to hang'
Experience very difficult
Dealt with shock, depression
Suffered pelvic separation, 18 weeks of illness
Endured preeclampsia, anemia (post-delivery)
[11:24] The evolution of the education tech startup Sarah worked with
Expanded rapidly
Restructured team
Outpaced expenses, recalibrated
Experienced success
Promoted to VP eight months in
[12:17] Sarah's takeaways from her combined experience with pregnancy and startups that propelled her to do the podcast:
Constrictive narratives regarding entrepreneurship and pregnancy don't account for full spectrum of experience
We are invested in people's growth when it looks like business, yet afraid of pregnancy
There is a strong cultural narrative around pregnancy (what you should look like, how you should feel, how you should behave), and a lot is left out of the cultural conversation
The conversation around what it means to be a working parent and continuing to thrive in work seem fear-based
[20:30] Sarah's inspiration to introduce the Startup Pregnant Podcast
Asking for help/advice via email, phone calls
Friend suggested podcast format
Meaningful to witness other's stories
Share conversations around women in leadership, work
[21:22] The similarities between the forces of pregnancy and entrepreneurship
Both accelerators that change you
In pursuit of creating new things in the world
'Crazy shit shows'
Parallels could help us gain insight
[23:05] Who you will meet in the first series of podcast episodes
Women who own successful businesses
Foster mother who adopted three children at age 28
Successful business owner who filed for divorce, chose to be non-custodial parent
Single mother, became best-selling salesperson working part-time
Post-doc postpartum physical therapist
Sarah's doula
[24:53] The upcoming themes of the Startup Pregnant Podcast
Breastfeeding, pumping at work
Fourth and fifth trimesters
Problems, joys of returning to work
How parenting transforms our understanding of work
Building a new future of parenting and work
Podcast pull quotes: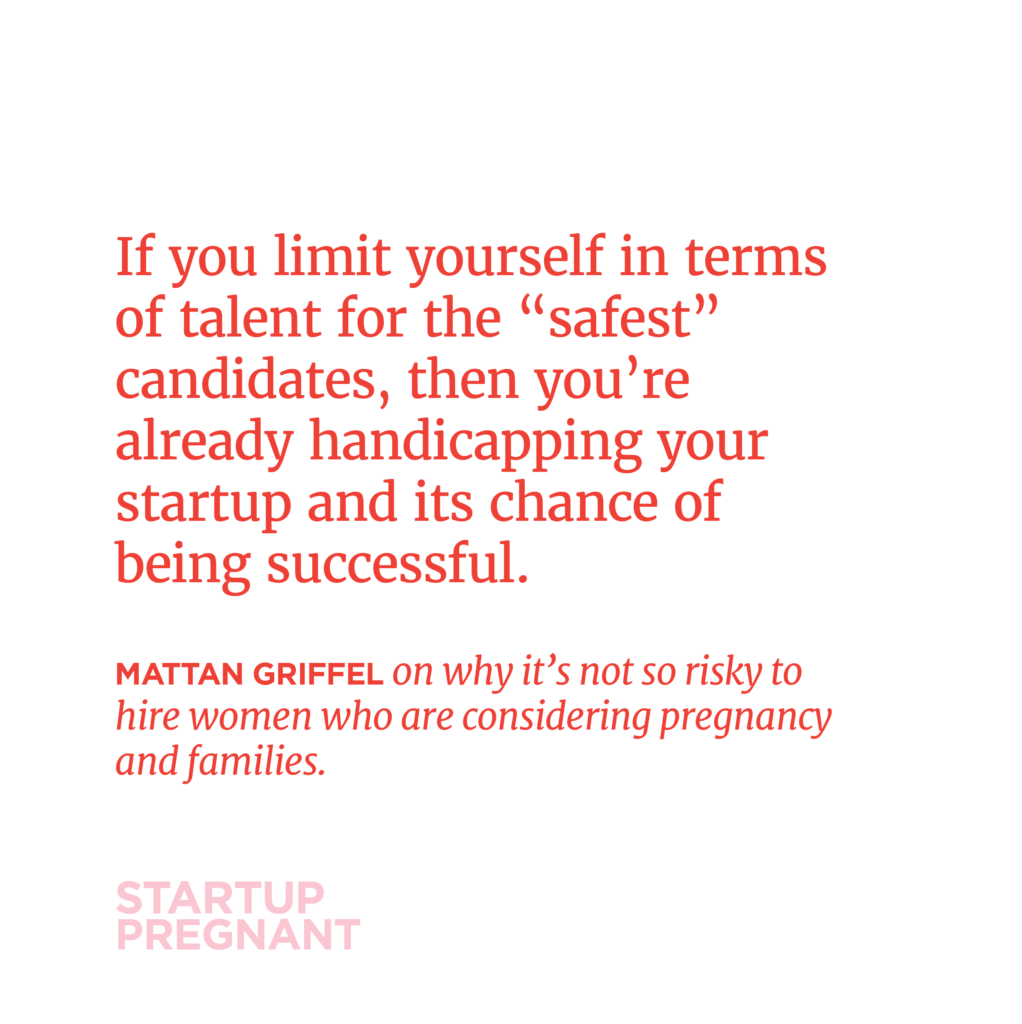 ---
Sponsor the podcast:
We partner with conscientious, kind, ambitious brands supporting startups, parents, and entrepreneurs. If you'd like to get your message in front of some of the smartest parents, mothers, and business owners in the world, send us a note by visiting us at www.startuppregnant.com/sponsor
Resources
About Mattan Griffel, guest on the show:
Mattan Griffel is a professor at Columbia Business School, Y Combinator alumnus, and the Co-Founder and Chairman of One Month, an online video learning platform that teaches students to code. He was recognized as a member of Forbes 30 Under 30 in Education, and he serves as Ambassador for the Sandbox Network, a community of global leaders under 30.