Startup Parent: A Women's Leadership Circle
A nine-month community group for women in business, leadership, and entrepreneurship. With writer, coach and facilitator Sarah Peck alongside guest teachers. June 2018 — March 2019.

When I say "motherhood and entrepreneurship" you say…
It's overwhelming. It's nuts. It's amazing. There are things that make you want to throw shit against the wall. There are blinking moments of stunning beauty. It's going too fast.
Why doesn't anyone say anything? Why the hell didn't anyone tell you the truth about it when you signed up for this? Sometimes i

t feels insane. Like the work world is not designed for working parents. (It's not! And it's nuts!)

It's lonely. Why aren't more people talking about this? Will it be like this forever? You want to connect more with other women, but you feel like you don't have enough time.
There's more inside of you. You know there's more inside of you, but you need help sorting—decluttering, figuring, planning—making time!  You wish you had a business mentor. And a mentor in parenting. And like eight more adults in your life to handle the load, to be honest…
You want a mentor, and a guide. And you want to talk to other brilliant women and deeper truths. You want belly laughs and deep cries and people who get how hard this can be.
And yet there's so much possibility. This is a beautiful, rich, and amazing time in your life. It's hard to figure out, for sure: but it's also so full of imagination and possibility. You want to capture it, use it, and grow with it.
This private mastermind is a place for us to come together and have real, open, and honest conversations.
This is a 9-month mastermind for brilliant women to come together in a leadership circle. You'll have a private place to talk to other smart, strategic women who are also figuring out pregnancy, parenting, and business-building. Together, with guided support, we'll map out our dreams for each upcoming quarter, check in monthly to review and adjust, and taking time to listen, witness, and support each other. Then we'll come together in monthly group coaching sessions to dig into your questions, worries, and growth areas.
Having a community of business mamas is essential for both your business and your life.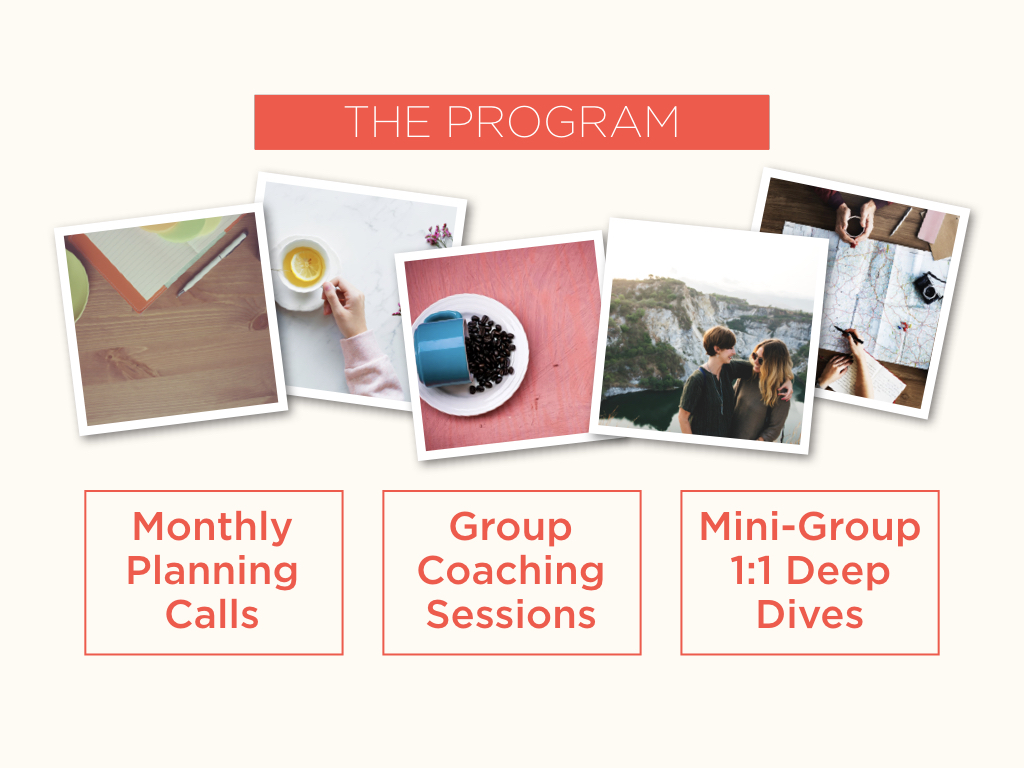 What you'll get with this program:
Community: A private, dedicated community of women to go deep with.
Planning Systems: My planning structures and productivity tools to help you go deeper each month on the things that matter, and eliminate the crap that doesn't matter.
Guided Calls: Monthly guided planning calls to set yourself up for success. This guided reflection and planning session is held the first Wednesday of every month, and yes—calls are recorded as well.
Group Coaching: Mid-month group coaching calls — On the third Wednesday each month, we'll have a live group Q/A coaching call to dig deep into your work and questions. Get your questions answered and learn from other women as well.
Mini-Group Deep Dives: Small-group time with Sarah — You'll get two coaching calls in small groups of three or four, one in the summer during our kick-off, and one in the winter, during our closing.
"I loved the call to be generous with our time and talents, and how that was met by each deeply invested participant. I felt as if I had a new circle of supporters, people who I also wanted to help meet their goals and dig into challenges and big ideas. The community, all centered around wanting to do and be even better selves, was incredibly empowering."
"Sarah's ability to connect people is like magic. Once you meet your Mastermind tribe, you're sure to build relationships that have the potential to last longer than the months you're together."
"I loved having a designated space, time, and community with which to dive deep into the most pressing questions in my personal and professional life. This structure worked really well for me because it provided structured times to pose and answer important questions, an accountability group that inspired me and pushed me to dig deeper, and finally a look into the questions, struggles, and aha moments of other ambitious people! After this mastermind, I have seriously wondered how people function without a similar support network and structure!"
How the program works
We'll meet for nine months (three quarters), starting in July 2018 and going through March 2019. The first group will be limited to a group of around 6-8 people so we can go at a slower pace, test, experiment, and iterate. During the interview process, I dig in to meet everyone, discuss goals, and then play matchmaker to put together a great group of people. (If we flex up to 10-12 people, we'll break into two smaller-group circles). Then, we'll check in periodically according to the schedule below, so you can stay alive, fresh, and connected:
(9) — Monthly Planning Work Sessions: During the first week of every month, you'll get a guided planning audio recording, plus worksheets to fill out your monthly plans and goals. You'll submit your monthly plan to me for review, and post it in our private Slack channel for group conversation. You'll commit to doing this every month within the first week. Sarah will carve out time to be available online to review and give feedback for each person.
(9) — Monthly Group Coaching Sessions: On the third Wednesday of every month, join for a 60-minute group Q/A session to do lighting coaching rounds together as a group.
(2) — Mini-Group Deep Dives: We'll form sub-groups of 3 to 4 people and meet to do deep dive inquiries and spend time 1:1 together twice during the program.
Calls are held at 1pm Eastern / 10am Pacific and will be recorded.
For the full calendar, scroll down to see all the dates and times we'll be meeting!
Most busy parents I know struggle to make it to conferences or schedule in friend time. This leadership program is designed to fit into your life

right now

, with lifelong friendships you get to keep.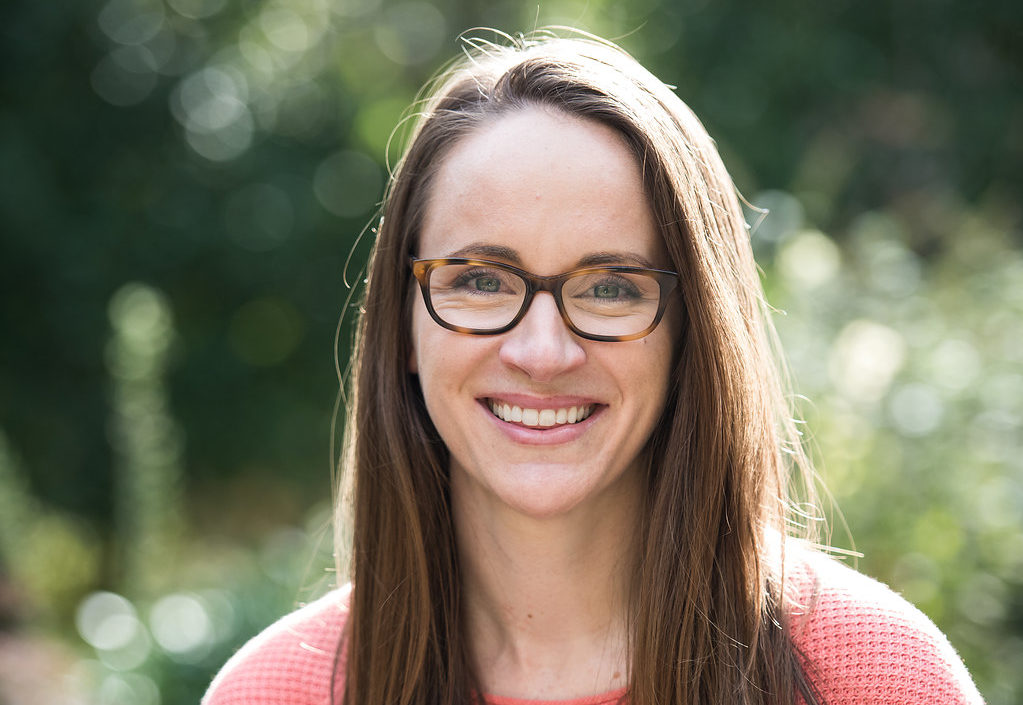 Meet Sarah, your host + guide
Sarah Peck is the founder and executive director of Startup Parent, a website that rethinks what work and leadership looks like. She hosts the Startup Parent Podcast featuring women's entrepreneurship and parenting stories.
As a global speaker on parenting, rethinking business design, and the future of work, her work has been featured in The New York Times, Fast Company, 99U, and more. She has worked and consulted at venture-backed startups, is an international speaker, and currently writes for both Forbes and Inc.
She is a 20-time All American swimmer who swam the "Escape from Alcatraz" nine times, once without wearing a swimsuit to raise $33,000 for charity: water. Her life motto is: "you don't have to do things the way they've always been done." She's the mama of a toddler and pregnant with her second. She lives with her husband and family in New York City.
In addition, we'll also have guest teachers + master classes
Brilliant guest teachers:

Three amazing guest teachers will join us for October, November, and December sessions to teach and guide us into areas of leadership, mastery, sales, and marketing.

Subject-matter master classes: Three 

guided 20-minute audio classes and worksheets with my productivity, planning, and strategy tools, available for you at any time.

5 minute guided reflection meditations:

Small, bite-sized reflection meditations for you to use at anytime.

Optional 'coffee dates' with other members. Each month I'll send a note to inspire you to connect with each other for 1:1 time to connect. Plus two handy conversation starter templates for you to learn to have powerful conversations.
Program cost
The program is $400/month for 9 months, or $3600 in full.
You can pay in full, or sign up for the monthly payment plan. No matter which plan you choose, your first payment is due upon approval of your application. This will hold your spot in the program. If you choose 9 payments, you will be charged once per month for the duration of the program.
But Sarah, aren't you having a baby?
Yes! I'm due with my second child in October 2018. In creating this program, I thought long and hard about whether to wait two years to launch it, and I kept asking myself: how can I do this and stay aligned as both a parent and a business owner?
This could work. And this could be a big giant mess. That's how life is.
It's not an easy question, to figure out how to coordinate work and babies and launches and life! After sitting with it, I realized I wanted to launch a smaller, simpler version of the vision I have for this program, and still plan ahead for a maternity leave that made sense—for everyone.
Here's how it's going to work:
I'll be your program guide for our first three months together (July, August, and September). I'm due with my second son in October of 2018, and I'll be taking time away to rest and recover during the first three months of my postpartum period.
During the Fall (October, November, and December), I'll pre-record our guided group calls and set them up on an email drip so you'll still have access to them. Then, three brilliant guest teachers will come sit with you in exploration and during the Fall Q/A calls. Your guest teachers will be exceptional coaches, leaders, and guides.
In January 2019, I'll be teaching every session and guiding you through the program elements for our last quarter together (January, February, and March).
"I loved the diversity of people who shared the same values of motivation, growth and learning. It totally exceeded my expectations! This is a structured Mastermind with the opportunity to meet other high-quality, motivated people, dig deep into your questions via deep dives and make progress on your goals."
"The experience of going through the mastermind with you and our crew was incredible. It left me feeling inspired, supported, poised, and empowered to take action to make my dream of running my own business a reality! I learned concrete tools and ideas from you and my peers in the group and felt truly held and heard in all of our interactions. Thank you for creating this space for our group to gather."
If you know this is for you, I can't wait to meet you.